Frequently Asked Questions
•

How much does a consultation cost?

Dr. Cardarelli offers a complimentary consultation, which includes the use of computerized imaging to show the before and after results for each patient. With the information gathered at the consultation appointment, an exact fee and treatment plan can be established.

•

Are there a variety of payment methods?

Fees depend upon the length of time and the degree of severity of each patient's treatment. Our office offers payment schedules that accommodate most financial situations. Payments can be spread out into equal monthly payments with no large initial payments, or an initial payment can be made and the monthly payment can be adjusted accordingly.

•

Can I go directly to an orthodontist, or does the dentist have to send me?

Yes, a referral from your dentist is not necessary. If you think you have a problem that needs to be addressed or are unhappy with the appearance of your teeth, you can call our office directly.

•

How do I know if I really need braces?

There are three basic reasons for obtaining orthodontic treatment. The first reason is that your teeth look crooked to you and you are unhappy with your smile. The second would be that your bite is not correct and you have extra pressure on the gums, teeth, and joints. And the third reason is your dentist needs to perform some type of dental treatment that requires the teeth to be moved to facilitate restorative correction.

•

How do I know if I'm too old for braces?

You are never too old for braces. Our youngest patients are about 7 years of age and the oldest patients have been in their 70's. Having straight teeth and a healthy smile are possible and desirable at any age.

•

How long does orthodontic treatment take?

Orthodontic treatment can vary from 3-6 months up to 24-30 months depending on the complexity of the problem. Each case is different and a consultation is necessary to determine the exact treatment time.

•

What are clear braces, and will they discolor?

Clear braces are of the highest quality porcelain material and do not discolor with eating or drinking. The braces are just as effective as metal braces, but they are more difficult to detect. The clear braces are more fragile than the metal braces and may not be recommended for younger children, or patients with certain types of malocclusions.

•

Will I need to have any permanent teeth removed when I get braces?

Dr. Cardarelli's philosophy for removing permanent teeth is only when absolutely necessary. If teeth are extremely crowded or protrusive, sometimes removing teeth is the treatment of choice. Typically, most orthodontists choose to extract the least desirable teeth to accomplish the goals of treatment. Alternative, non-extraction approaches may be indicated, depending on the nature and severity of the case.

•

Do braces harm your teeth or gums?

When patients follow instructions, as prescribed, for the proper care and maintenance of the braces, keep scheduled appointments, and brush their teeth regularly, orthodontic treatment will be a very rewarding experience.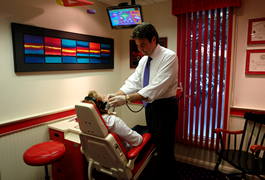 .
Appointment Scheduling?
Quality treatment in a caring environment is the primary goal of our office. To achieve this, it is impossible to see every patient at the time they may desire. Our schedule has been designed for the convenience of our patients, with some very specific objectives:
•

To accommodate patients at their appointed times

•

To allow appointments to be as thorough as possible and as frequent as necessary

•

To minimize the need for excessive time away from school and/or work
With this in mind, we have designed a schedule with the majority of patients' appointed during more desirable times. Longer or more involved procedures are performed in reserved times throughout the morning, or early afternoon hours.
We ask that should you need to reschedule an appointment, please give us at least 24 hours notice. This courtesy allows another patient to take advantage of that available appointment time.
Emergencies and Sports Related Injuries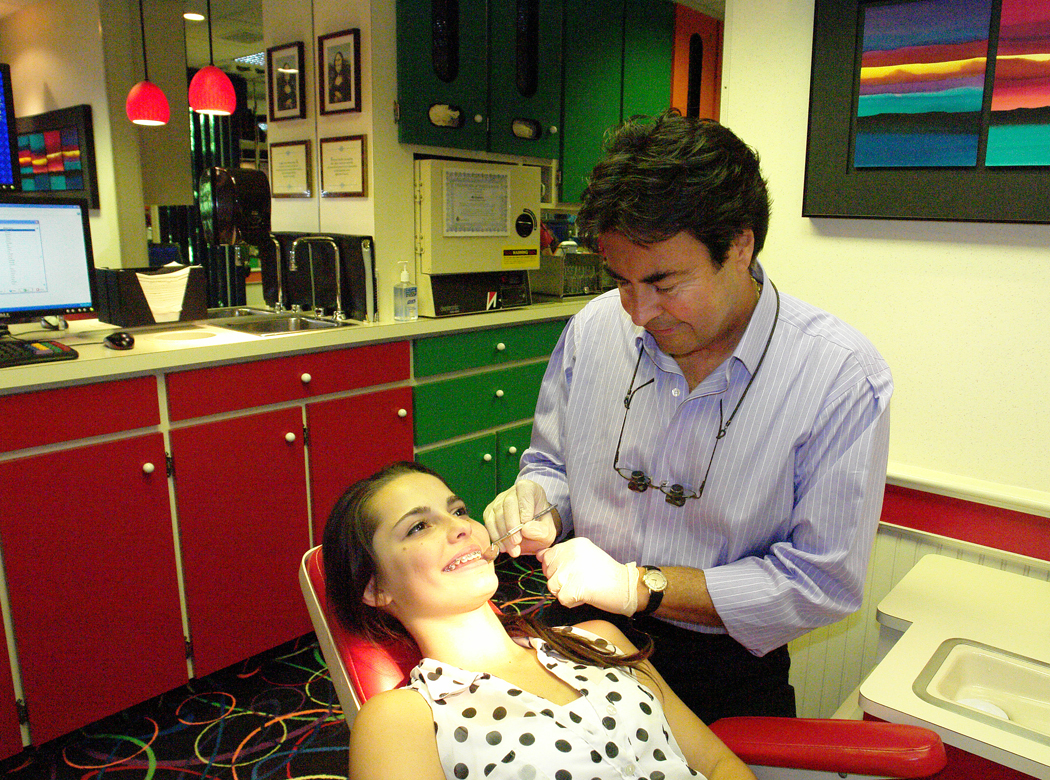 For the convenience and comfort of all our patients, our answering service will respond to any emergency situation, 24 hours a day, seven days a week.
True orthodontic emergencies are very rare, but when they do occur we are available to you 24/7 via our answering service. As a general rule, you should call the office when you experience severe discomfort or when you have a painful appliance problem that you can't take care of yourself. We will immediately schedule an appointment to resolve the problem.
You might be surprised to learn that you may be able to temporarily solve many problems yourself until you schedule an appointment with our office. After alleviating your discomfort, it is very important that you still call our office as soon as possible to schedule a time to repair the problem. Allowing your appliance to remain damaged for an extended period of time may result in disruptions and delayed treatment.
In case of a sports emergency, be sure to immediately check your mouth and your appliances for any damage that may have occurred. If you notice any loose teeth, or if your appliances have been damaged, please contact our office immediately through our 24 hour answering service. You can temporarily relieve the discomfort with wax or by rinsing your mouth with warm salt water.