It's not over, 'til it's over... Retention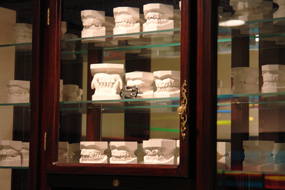 Every patient will go into retention, or a holding phase, when braces are removed. Your retainer(s) will be specially designed to help maintain the improvements that have been achieved. Shortly after the braces are removed, the teeth are mobile and can shift. The teeth will need support, and your cooperation in wearing retainers as directed is imperative.
Tips for your retention phase and/or retainers are:
•

Your retainers should be worn as prescribed. They can be removed for special circumstances as indicated when you receive them.

•

Certain teeth may feel pressure and be tender for several days after a retainer is adjusted. This is normal as minor adjustments to the bite are in progress.

•

Brush your retainer with toothpaste and cool water. A fresh and clean retainer is healthier and more comfortable. Rinsing with a mouthwash can freshen its taste.

•

Your retainer is durable, but needs "tender loving care" in order to do its job.

•

Please do not bend the wires. Excessive flipping of the retainer with the tongue causes premature wire breakage.

•

Store it in your retainer case when not in use. Do not leave it where it might be damaged, thrown away, bent, broken or played with by small children or pets. YES, DOGS DO EAT RETAINERS.

•

Keep your retainer away from heat or hot water. Unfortunately, plastic can warp or distort, making the retainer not fit properly.

•

A damaged or lost retainer may have to be replaced.

•

If for some reason you cannot wear your retainer as suggested call the office for a check or adjustment appointment.
As we grow and mature, everything undergoes changes. Some minor shifting and settling of our teeth is expected. Proper retainer wear will keep these changes to a minimum.