Emergencies and Sports Related Injuries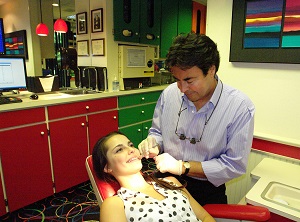 For the convenience and comfort of all our patients, our answering service will respond to any emergency situation, 24 hours a day, seven days a week.
True orthodontic emergencies are very rare, but when they do occur we are available to you 24/7 via our answering service. As a general rule, you should call the office when you experience severe discomfort or when you have a painful appliance problem that you can't take care of yourself. We will immediately schedule an appointment to resolve the problem.
You might be surprised to learn that you may be able to temporarily solve many problems yourself until you schedule an appointment with our office. After alleviating your discomfort, it is very important that you still call our office as soon as possible to schedule a time to repair the problem. Allowing your appliance to remain damaged for an extended period of time may result in disruptions and delayed treatment.
In case of a sports emergency, be sure to immediately check your mouth and your appliances for any damage that may have occurred. If you notice any loose teeth, or if your appliances have been damaged, please contact our office immediately through our 24 hour answering service. You can temporarily relieve the discomfort with wax or by rinsing your mouth with warm salt water.